All the dogs in my life have sported easy-to-maintain coats. Sure, Chipper, a Husky-golden retriever mix, did shed a lot, but rarely encountered any matted fur. Kona, my terrier mix, is easy to keep clean, requiring occasional brushing and water-free shampoo baths.
Regular Grooming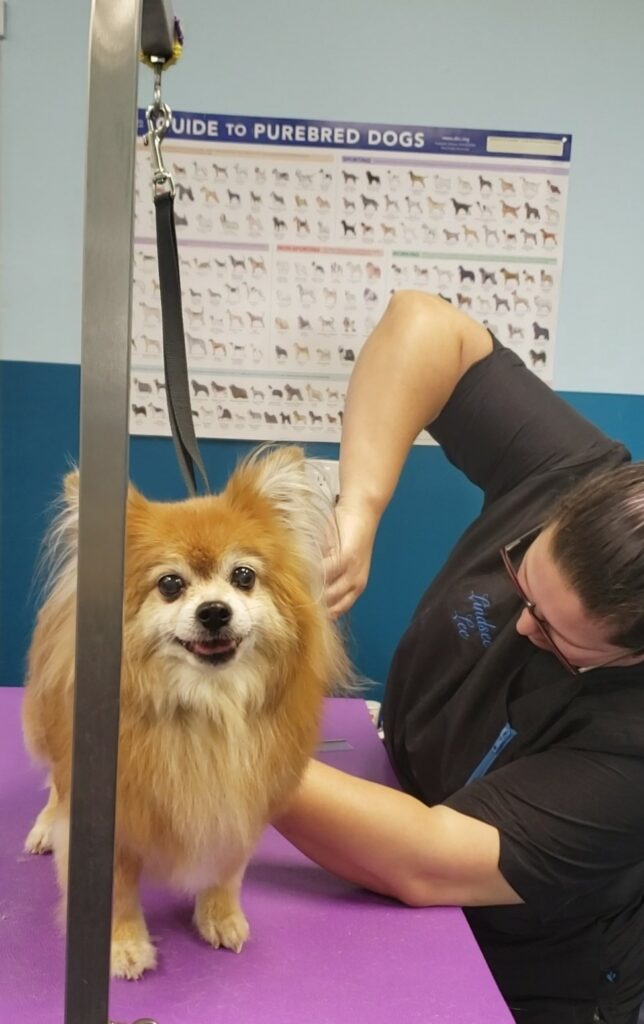 But a few years ago, we rescued Emma, a nine-pound poodle-Chihuahua mix. With her challenging silky, wavy coat and a propensity for gooey eye boogers, Emma really needs regular "spaw days" sessions performed by a professional pet groomer. She also counts on me to step up my at-home brushing and bathing regiments in-between those appointments.
As a master pet first aid/CPR instructor, I recognize that a dog's skin is the largest organ. Neglected coats can become oily, dry, matted or sport nicks, scrapes and even painful, hot spots that can take a toll on the other organs as well as the body's respiratory and circulatory systems.
But I realized that I have a lot to learn and share with pet parents.
In a recent Pro Pet Hero Instructor course, I met and trained Lindsee Lee Amsden to become a pet first aid/CPR instructor. I discovered that she is also a top professional pet groomer s in Palm Beach County.
Lindsee shares her home in Boynton Beach, with Cooper, her Chow Chow mix; and Harley, her tortoiseshell-colored cat. This professional pet groomer travels up and down the Florida coast as the director of education at two grooming schools: Pet's Playground Grooming School in Ocoee and Woof Gang Academy of Grooming in Pompano Beach. She is also a competitive pet grooming in shows.
"When it comes to pet grooming, there is definitely an art and a science to it," says Lindsee.
Grooming Care Tips
Lindsee shares these pet grooming do's and don'ts:
Do get in the habit of looking, smelling and touching your dog from the tip of the head to the end of the tail at least once a week. "We groomers are often the first to notice a cut or an infection on a dog, especially one with a thick or double coat," she says.
Do look and sniff inside the ears. Your dog's ears should not smell like dirty socks or look red. These can be signs of an infection that requires veterinary care. If your dog comes inside from a romp in the backyard, look carefully inside the ear canals. "If you see what looks like coffee grounds, it may be ear mites or it may be just dirt that entered when your dog was rolling in the dirt in your backyard," says Lindsee.
Don't reach for the scissors to cut out a mat on your dog's coat. Always think safety first. If your dog suddenly wiggles, you could accidentally cut the skin or nip an ear.
Don't try to cut away the dirty glob aka eye boogers on your dog's face. Lindsee says, "The safest way to deal with eye boogers is to wipe them with a damp cloth or unscented baby wipes and then use a flea comb with tiny metal teeth to gently comb away the goo. Never use scissors, especially near your dog's eyes."
Do recognize that dogs come in a variety of coats with different grooming needs. Coats may be silky, drop, hairless, double, combo, single, short, medium and much more, so consult your pet grooming about which brush and comb will work best on your dog. "The best are metal combs and slicker brushes with metal teeth," says Lindsee. "If you have a longhaired dog, get a long pin slicker brush. Got a shorthaired dog? Use a short pin slicker brush." Silky, wavy coats, like the one my Emma sports, requires more brushing and bathing than the wiry coat Kona has. "Silky coats tend to soak up the oils off your hands when you pet them and odors when they come in contact with other animals. These coats can smell really nasty if not bathed enough," says Lindsee. "Wiry coats found in terriers like Kona are designed to be coarse and be slightly water resistant. Wiry coats tend to repel that dirt, that water, that muck on them when the terrier is digging to catch a weasel or a rat and therefore, do not need to shampoo as often as dogs with silky coats."
Don't rinse your dog's head when he is looking up. You risk getting water in his ears/ Put cotton balls inside your dog's ears before a bath and always rinse with his head looking down so water will not get into his ears.
Do let your dog gleefully do a full body shake after a bath and before you attempt to towel him dry. "Dogs love to shake, so let them," says Lindsee. "It makes the bath more welcoming to them and they are far more effective in getting water off their coats than we are with towels. Make it fun. I tell my dog, Cooper, 'You're a self-drying dog. You go, buddy!'"
Lindsee's final tip to pet parents:
Recognize that dogs are very good at smelling our emotional state. "If you're nervous, your dog will be nervous," says Lindsee. "If you are calm, your dog will tend to be calm. Dogs can smell your stress level. Strive to be calm and upbeat, especially when you bring your dog into a grooming salon. We as groomers want to make the grooming experience pleasant and safe for your dog."
Learn Pet First Aid
Learn more on ways to keep your cats and dogs safe by visiting http://www.propethero.com. Consider taking our veterinarian-approved online pet first aid/CPR course. Enter this code: CPR – ARDEN MOORE and receive a 10 percent discount! And, if you are interested in becoming a Pro Pet Hero instructor, please click on the BECOME AN INSTRUCTOR button on the home page for more details.