These are stats from 2010 so while I hope they have decreased, I can only assume with pet ownership increasing, that these numbers have as well, "an estimated 500,000 pets are affected annually by home fires, however, nearly 1,000 house fires each year are accidentally started by the homeowners' pets, according to data analysis by the National Fire Protection Association" posts the AKC.org.
I have already written about how appliances can cause house fires, but it's time to consider and I will address later in this post, that our pets can be responsible for setting our homes on fire as well.
As a pet first aid & CPR enthusiast, I set up google alerts for my interested topics and I cannot say a week or even a couple days go by without a news article discussing pets caught in a house fire. This keeps me on my toes and finally made me take some precautions in my own home to ensure what would happen to my pets if a fire broke out, whether I was home or not! Here is what I have done but I would love to update this post with any of your ideas as well so drop a line in the comments.
When a Fire Breaks out and You Are Home
Keep them tagged
Having your pets collared and tagged is a no-brainer for most but I'll be honest, mine often run around naked as we say. This is risky and I do not recommend it for so many other reasons than just a fire. We do have slip leads placed strategically throughout our house, but that doesn't help our dogs if one slips away. Make certain your pets are collared and microchipped.
Have leashes in each part of your home
We have leashes almost in every room, I'm not kidding. My husband and I have a few in our bedside tables, you never know when you will need them. A dog could injure themselves and a leash will help you control them and provide first aid, or of course, in the event of a fire, you can leash your pups and walk out.
Prepare an exit plan from different parts of your home
Fires won't happen in a convenient area most of the time. Plan your exits based on being anywhere in your house, the bedroom, TV room, kitchen etc. If one section of the house was in flames, could you still get out? Think about this and plan because when you have a fire, your adrenaline will flood your system. Thinking clearly will be challenging.
Have copies of your car keys in various places
Just like with the leashes, a fire could break out, you get out of your house safely with your pets on leash but now what? It's cold, hot, raining, where can you shelter, if not at a neighbor's? Your car could be your savior but it's only as good if you can get into it!
Don't forget the cat!
Seriously, have carriers where you can, the hall closet and upstairs. The money you spend on an extra carrier will be well worth it. Also get them used to it before you actually need to use it.
Work on making the smoke alarm less scary
Our smoke alarms go off more than I would like to admit. My husband is a wonderful cook, but smoke happens. We all know how anxiety-inducing this sound is for us but it could throw your pets into a panic. Try first by making them beep when you check the battery and feed your pets a treat. Work up slowly to more beeps until you can have it set off and they will still take treats. Essentially you are desensitizing your pets to the awful noise. It's one thing for you to panic during a fire, but you need to find your pets and get them out safely, so the less they panic, the easier it may be.
When a Fire Breaks out and You Are Not Home
Keep them tagged
This keeps your contact info and their name on them at all times. Many first responders are pet lovers, give them the best chance to help your pet. When a stranger knows their name, your pets may feel more comfortable. This can help the first responder have a better chance of saving your pet's life and getting in touch with you to get them the medical care they need.
Have signs on your entryways stating how many pets you have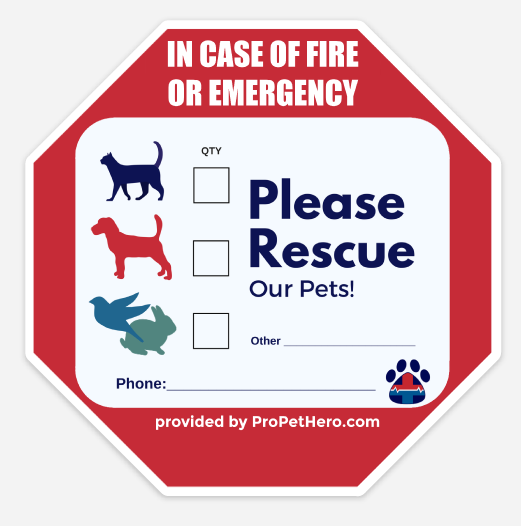 In the case of a fire, firefighters are walking into a house with low visibility. Letting them know you have pets will help them prioritize saving them. 
To purchase the pet emergency stickers click here, free shipping in the contiguous US.
Have your contact information near/on your pets
It doesn't hurt to have this on the fridge or their crates. Keep your info nearby so the faster they can get in touch with you, the faster you can react and provide the care your pets will need.
Prevent Pets from Starting Fires
Keep them safely contained – crates can keep curious pups away from electrical cords, jumping up on appliances and turning them on (like your stove), getting into things etc. Consider healthy confinement when you cannot be around.
Consider flameless candles – not only can curious pets knock candles over or even burn themselves on them, the burning fumes can be harmful to you and your pets.
Remove stove nobs – one of our client's dogs almost burned down their house trying to reach the Doritos they left on top of the stove. The dog repeatedly jumped up trying to get them and started the stove, which melted the bag and set the Doritos on fire!
Do not leave glass water bowls on the deck or near the house (or any glass) – remember learning how magnifying glasses can start fires? So could that glass bowl of water you left on your deck for your pup when it gets hot. Use stainless steel or something that is not seethrough for their safety and your home's.
Most Importantly, Have a Plan
Strategize about where to place leashes, how to get out, where your contact information is and also know where you could go afterward. Do you have family, neighbors or friends you can stay with? Do you know where a pet-friendly hotel is near you? These are things to think about and save in your phone or car now, so when they happen, you can spend less time worrying about that and focusing on keeping your family safe.
For more information on how to know how to handle emergencies with your pets, take a pet first aid course. Take the thinking out of your adrenaline rush, your pets will thank you for it.